Welcome to the December 2014 Edition of the Minerals.net Newsletter!

For many collectors, the beginning of winter marks the end of the collecting season. It's also a quiet time for mineral shows. With less new material coming into collections this time of year, early winter provides an opportunity to organize and do collection maintenance. At Minerals.net, it is our most productive time to add new minerals and update the website.
Mobile Website Version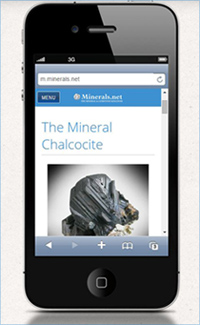 Minerals.net is pleased to announce a new mobile version of our website! With the explosion of mobile and tablet browsing, we felt the growing need to have a separate mobile version of the site optimized for users with non-desktop screens. We noticed a traffic increase of over 200% of users visiting our site from mobile or tablet devices this past year, and decided to do something about it.
Minerals.net is the only detailed mineral informational website that has a complete mobile website version. We encourage all our visitors to go visit Minerals.net with their mobile or tablet device! Just load the website from your browser, and it will auto-detect your phone and tablet to load the mobile site! (You can still view the full-screen website by clicking the link on the bottom of the page to view the full website.)
New Minerals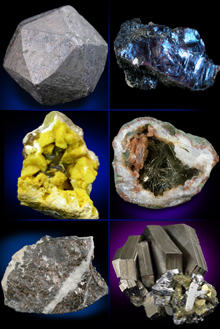 We have been working hard adding new minerals into our database. We made progress on filling the gaps on several important sulfide minerals that were missing, and are proud to announce the completion of the following new sulfide minerals over the past two months:
We included detailed information and locality data, as well as excellent pictures and 3D crystal animations for all of these. There are still more sulfides and sulfosalts to be added, and those are next on our agenda.
We also updated all the minerals listed below since our last newsletter with new content and many additional photos. Several of these minerals have had their pages entirely rewritten.
Educating Our Youth Toward Middle-Range Collections
There is an abundance of new mineral specimens coming out of Asia, Africa, and Russia these days. The quality of this new material reaching the market is remarkable. This higher quality stems from a new awareness among collectors, especially from lesser developed countries, to be cognizant in preserving the material they are collecting. This includes proper methods of mining and extraction, matrix preservation, preparation, and protection until it arrives at a dealer. The result is an abundance of many new fine minerals from new localities, or from places that were previously not big specimen producers.
On the flip-side, quality minerals from classic localities are increasingly difficult to get a hold of. In developed regions of the world, like the United States and Western Europe, many classic localities are off-limits or have been exhausted. Quality specimens from such locations can be difficult to come by, since they are only available on the market from recycled collections. When they do become available, their prices tend to be very high.
Click here to continue reading this article on the Minerals.net Website