Welcome to the Minerals.net
January 2014 Newsletter!

This is one of our most exciting newsletters. 2014 is a big year for Minerals.net, as it will bring a brand new design to our site and we will be offering many interesting site promotions.

2014 Giveaway:
Trip to Tucson for the 2015 Shows!



Win a Free Trip to Tucson for the mineral and gem shows – courtesy of Minerals.net! Every February, the mineral and gemstone world converges on Tucson, Arizona for an annual pilgrimage. Whether you are a Tucson regular or never had the experience, let Minerals.net help you get there for next year's show!

Minerals.net is proud to announce our 2014 Giveaway:
A free trip to Tucson for the 2015 show!

Click here for more details.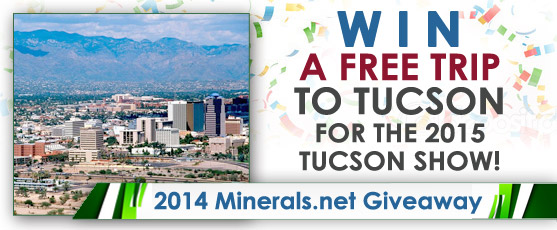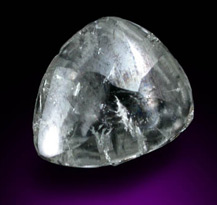 Winner of Facebook Contest
The winner of this magnificent 1.02 carat uncut natural Diamond crystal from our Facebook Contest is Chris Butscher from California! Congratulations! We hope you will enjoy your natural Diamond crystal, courtesy of Minerals.net! If you missed your chance to enter the contest this time around, make sure to follow us on Facebook and Twitter so you'll know when
we run our next contest.
Our Facebook page now has over 200 likes since starting this campaign! Stay tuned for other similar contests we'll be promoting on Social Media!

Click Here to Visit our Facebook page.

Click Here to Follow us on Twitter.
Ads in Mineral Publications
Watch for our ads in the following publications:

Mineralogical Record
Rocks & Minerals
Tucson Gem & Mineral Show official showguide
Xpo Express Showguide
The Rocks & Minerals magazine that has our full-page ad is already printed and mailed out, so you may have even seen that one already!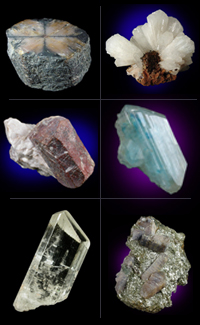 New Minerals Added
We have added several new minerals since our last newsletter, with comprehensive information, relevant photos and locality information, and 3D animated crystals. These new minerals include:
Book Review: The Collector's Guide to the Minerals of New York State
I recently ordered a copy of the new book by Dr. Steven C. Chamberlain and Dr. George W. Robinson titled "The Collector's Guide to the Minerals of New York State." The book was published this past year, and definitely filled an important void. New York State has a rich mineral history with many classic localities. This book focuses on many of those important New York mines and deposits.

Click here to read the full review on our news page: http://www.minerals.net/news/
Minerals.net Redesign:
We have almost completed the redesign of our website with an anticipated January roll out. The new design sports an updated look with a number of exciting features.
Stay tuned!


Give us Feedback!
We appreciate feedback! Please email any comments or suggestions, and any errors or bugs you may find on our website. To contact us, please visit our Contact page.