Welcome to the Minerals.net
Fall Newsletter

Thank you for reading the Minerals.net Newsletter. We have lots of news and updates to share since our last newsletter in September. Our email list has grown to over 2000, and we want to thank all our site viewers and subscribers for their support.


New Minerals Added
We have added several new minerals since our last newsletter, complete with comprehensive information and a variety of relevant photos.

These include:
We also added an information page for the gemstone Benitoite.

Please visit these pages and let us know if you have any suggestions!
Show Reports
We added two show reports since the last newsletter. Jeff Wilson put together a newsletter of the Springfield show this past August, and we posted his article and a few of his photos on our site. This year's Springfield show featured a spectacular display of world-class minerals from the Carolyn Manchester Collection, with more than thirty cases containing displays from her collection. Carolyn is a retired school teacher, and has been collecting minerals for over 58 years. Her specimens presented for display were indeed stunning.
Hershel Friedman attended the Franklin, NJ show in early October, and wrote a small show report with pictures. The Franklin show takes place twice a year, and many of the local collectors and dealers can be found attending this show. The weather for this early fall show was spectacular this year, and the outdoor part of the show was definitely enhanced by the weather.
Facebook and Twitter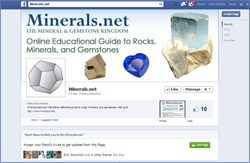 We have restarted our Social Media campaigns on both Facebook and Twitter. We set up a new fan page for Minerals.net, and we will post general news, updates, and musings in the mineral and gemstone world on this page. We will also offer periodic contests through our Facebook page. Please visit the page at www.facebook.com/minerals.net



We have a Twitter Account, and posted tweets on site updates when we set it up about two years ago. The account then lay dormant for a while with no activity. We recently relaunched our Twitter page and now regularly post site updates, including minor updates to large site improvements. Out Twitter page is almost like a project log, and can be followed. Visit our Twitter page at https://twitter.com/mineralsnet.


Our Ads Coming Up in Several Important Publications
We are putting in ads for minerals.net in the Jan-Feb edition of Rocks & Minerals and the Mineralogical Record to promote our website. We are also putting an ad in the Tucson Gem & Mineral Show™ official show guide. Keep an eye out for them!

Join a Club!



There are hundreds of mineral clubs and societies throughout the world. These groups help localize and personalize the mineral collector community, as they provide important resources for collectors and hobbyists. Aside from arranging trips to mines and deposits, clubs also organize and promote local shows and special events. The clubs also function to bring together people of similar interests, and they foster interaction and knowledge sharing among members.

Many mines and quarries, especially active ones, are off-limits to the public. Mine operators often prohibit individuals from collecting since it can distract operations. Even inactive quarries are often closed to the public for collecting, and many do not allow trespassers. Although some brave individuals will invariably illegally sneak in and collect in these quarries, they run the risk of being caught trespassing.

A mineral club often has some political clout and has the advantage of the power of the group. Mineral clubs try to obtain permission from mine owners to collect where an individual could not achieve access. They also work on promoting the natural sciences and stress community responsibility. Clubs will work on resolving insurance or safety issues with mine owners so that collecting will be allowed. They often arrange for the group to collect during times where the operations will not be interfered with.



Give us Feedback!
We appreciate feedback! Please email any comments or suggestions, and any errors or bugs you may find on our website. To contact us, please visit our Contact page.