The NY-NJ Gem & Mineral Show

Show promoter Lowell Carhart has been looking to fill a void in the largest city in the USA. A city like New York, with a vast metro population, is deserving of a grand mineral show in its area, but this has always been lacking. This year, the New York City Metro area was treated to a great mineral show, called the NY-NJ Gem & Mineral Show. The show first started last year in the Meadowlands Exposition Center in Secaucus, New Jersey, and this year more than doubled in size to 150,000 square feet in the NJ Convention & Exposition Center in Edison, New Jersey.




This new show is definitely up and coming. The visitor count for the show this year was over ten thousand people, with close to 300 dealer booths. Hershel Friedman was present at the show with a booth promoting the Minerals.net website, as well as selling some of his local New York and New Jersey minerals. The Minerals.net booth had a large TV monitor looping some of the videos we produced, including the one with Glenn Rhein. Glenn was a real star at this show, with his public exhibits, fluorescent case, and picture on the front cover of the show guide. The picture below is Hershel Friedman and Glenn Rhein in the Minerals.net booth, with Glenn and Hershel in the video playing right below.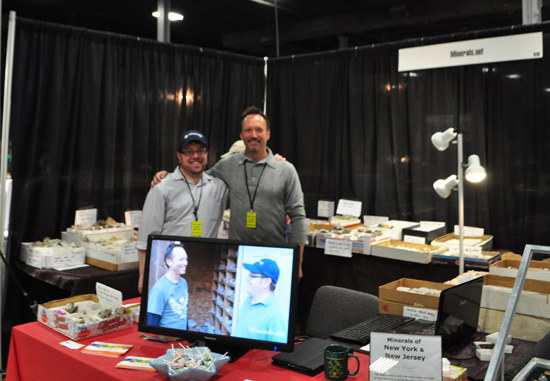 The theme was "Minerals of New York and New Jersey", and the show had a public exhibit of some of the finest minerals in New York and New Jersey. This exhibit was likely the largest public display of New York/New Jersey minerals ever assembled, with over 35 large wall cases filled with exceptional minerals and fossils from both museums and private collectors. The special exhibits were organized by Justin and Brandy Zzyzx, who did a fine and professional job getting this done.


The Franklin and Sterling Hill Museums set up an ultraviolet darkroom of fluorescent minerals from both Franklin and Ogdensburg, New Jersey. There were over a dozen large cases with ultraviolet lamps above the cases shining on the minerals. There was even one case that was open without a glass in the front, so that the minerals in the case could be touched. Glenn Rhein set up a case in the fluorescent room of fluorescent minerals from Amity with a rotating centerpiece.


To see our detailed show reports, please view the links below:

To view the official show guide, click this link for an online flipbook. The show guide has two articles written by Hershel Friedman, one on Herkimer Diamonds from Pakistan, and the other on Glenn Rhein and his amazing finds. The front cover of the show guide also features a picture of Glenn that was taken by Hershel during the video shoot documenting Glenn's discovery.
Mineralogical Record Archives



Many of us benefit from the Mineralogical Record's well-written articles and amazing photographs. We all enjoy picking up a printed copy of the Mineralogical Record Magazine and reading it in its classic book format. However, in today's Internet age where all content is digitized in archives and searchable, it is important to be able to also find and access all articles in an easy and organized way. Further, with the explosion of tablets and digital book readers, digital print content is becoming exceedingly useful and mainstream in an online digital PDF format.

I was very happy to hear that the Mineralogical Record made an initiative to go digital, allowing individual articles to be purchased online and linked to. This will be a huge step for research, allowing a search for historical articles and the ability to purchase the digital article. The Mineralogical Record is in the process of slowly digitizing their articles and placing them online for purchase. Their first digital article is the Carlsbad Potash Basin, which primarily describes the incredible blue Halite occurrence from Carlsbad, New Mexico. This article is indexed online at http://minrec.org/articledetail.asp?id=2623, and the full article can be purchased directly from the website. We have linked to this article in the "Additional References" section our Halite page, and we will continue to link relevant articles as The Mineralogical Record archives them.



Another advancement of The Mineralogical Record is their online newsletter. This is a new feature they just started and we look forward to receiving online news and updates from them.


Minerals.net News
You may have recently noticed that we changed the name of the "Minerals.net Blog" to "Minerals.net News". What used to be a blog describing updates to our website has morphed into a comprehensive mineral news section, featuring show reports, mineral articles, and other useful information. We will still continue posting updates on our website in the news section, but we do hope this new section will be very informative with updates posted on a regular basis.

Our news page can be found at www.minerals.net/news