Welcome to the Minerals.net Newsletter
Welcome to the 2013 New Year edition of the Minerals.net Newsletter! 2012 was a great year, where we added many new minerals and photos, and greatly enhanced the website. We will continue adding more content and features this coming year, and hope to keep minerals.net the top educational mineral reference site. We have just launched our 15 Year Anniversary Giveaway, where we are giving away three outstanding mineral specimens to three lucky winners. See below for more details.

Minerals.net is proud to launch our 2013 giveaway, in celebration of our 15th year being online. Minerals.net was one of the first mineral reference websites, launching in 1997. Our giveaway will allow contestants to enter a drawing to win a museum-caliber mineral absolutely free! All you have to do to enter the drawing is register online.

Registration will be open from January 1 through March 17, 2013.

Fluorite on Quartz,
Riemvasmaak, Northern Cape Province,
South Africa.

Tourmaline with Quartz,
Tourmaline Queen Mine, Pala
California
Keep an eye out for our full-page ads promoting this contest in the January-February issues of The Mineralogical Record and Rocks and Minerals magazines!
We would like to thank Rob Lavinsky of the Arkenstone for providing the amazing Pala Tourmaline, and Robin Hansen of Kristalle and Crystal Classics for providing the outstanding Fluorite. We selected the Tourmaline for its great color, crystallized matrix, and classic locality of Pala. We selected the Fluorite specimen for its amazing deep-green color and crystal shape, and for the fact that Fluorite will be the mineral theme at this year's main Tucson show. We then added Crocoite after realizing just how popular this bright mineral has become especially with this new 2012 find.
After reading about the 2012 Crocoite discovery in the November-December issue of the Mineralogical Record, we contacted Australian mine owner Adam Wright of The Adelaide Mining Company who offered us an amazing specimen of Crocoite to add to the contest.


New Minerals Added - Zeolites
We have been working on the zeolite minerals since our last email newsletter. We have added nine new zeolite minerals, complete with detailed information, photos, and 3-D crystals. The following new minerals were added:

A New Video on a New Discovery in Amity, NY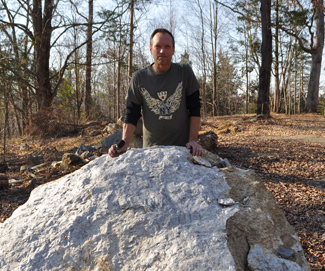 Many mineral enthusiasts have been following the popular thread on the Mindat.org discussion forum which deals with a new discovery of minerals by Glenn Rhein. Glenn lives in Amity in Orange County, New York, a classic locality well-known for the giant spinels that were once found there. Glenn was excavating his property and made an amazing mineral discovery of giant crystals and reached out to the mineral community. I was fortunate to visit Glenn and his discovery several times in 2012, and we filmed a video on his discovery. This video is currently being edited and we hope to have it ready around the time of the Tucson show.
A Diamond in Kimberlite, Like a Needle in a Haystack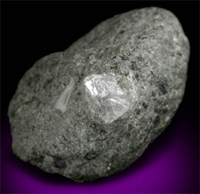 While it is difficult to obtain a diamond in a rough and natural state, it is almost impossible to get a diamond still within its Kimberlite matrix. Mineral dealer John Betts is one of the few dealers who regularly posts rough diamonds for sale. When I saw John Betts post a photo of a good diamond in matrix from Russia, I knew I had to add the image it to our website since these are so rare to come across. I then read on his website where he talks about the rarity of such a discovery. The reason that uncut diamond specimens are so difficult to obtain is because they are collected in economically important deposits that are exclusively mined for gemstone purposes, and are rarely spared the cutting saw or drill. The diamonds are tightly controlled and secured by the cartels from the moment they leave the mine and are sorted. All the more so with matrix specimens. When diamonds are viewed as a commodity, the matrix is considered excess and the diamond is stripped of its inherent natural setting. For a diamond to leave the mine without being removed from matrix is therefore the unfortunate reality of this amazing mineral, and those few that are spared are truly the rare exception.


Give us Feedback!
We appreciate feedback! Please email us with any comments or suggestions, and any errors or bugs you may find find on our website. To contact us, please visit our Contact page.
Copyright 2013 Hershel Friedman | Minerals.net, all rights reserved.